Belts are Items which may be equipped into the belt slot of Player Characters.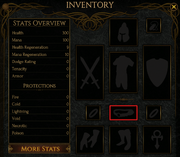 Basic Belts
[
]
Unique Belts
[
]
Unique Belts are Unique equipment that are equipped into the belt slot.
Icon
Name
Type
Implicits
Rarity
Unique Effects
Flavor Text
Base Item
Req. Level
75x180px
The Scavenger
Belt
4-4 Potion Slots
Unique
40% - 120% chance to find potions
Gain Haste for 3 seconds on potion use
20% - 45% increased dodge rating
Gods may fall and empires crumble, but the furtive scavenger lives on.
Leather Belt
14
Chains of Uleros
Belt  -  Belt
5-20 Added Mana
3 Potion Slots
Unique
+40 Necrotic Protection
12% Increased Damage
24% Reduced Duration of Stuns on You
Your Potions Grant Ward instead of Health
Tether yourself to this mortal realm
Noble Sash
32
Shattered Chains
Belt
50-100 Added Armor
3-3 Potion Slots
Unique
% increased Armor (50-70)
Added Melee Void Damage (5-10)
% Increased Melee Damage (50-70)
Using a Potion Cleanses Stun and Freeze
As he was interred chains fell from the sky. As he was exhumed chains fell from the dead.
Plated Belt
70
Strands of Souls
Belt
4-4 Potion Slots
Unique
Ward Gained on Potion Use (180-320)
% of Mana Spent Gained as Ward (100)
% Ward Retention (30-70)
Ward Gain on Kill (5-10)
It is unseemly to wear the heads of your foes upon your belt like a common witch or wengari, and what is the point if the eyes can no longer see and the brains can no longer think. No, a necromancer should wear the souls of those they have conquered, a repository of sentient energy ready to consume.
Leather Belt
82
Vipertail
Belt
3-3 Potion Slots
Unique
Adds 50% Poison Chance
Adds 50% Slow Chance
5% Increased Melee Attack Speed
45% Increased Dodge Rating
The bite of the viper brings lethargy and death
Sash
6
Ward Trail
Belt
4-4 Potion Slots
Unique
Adds 80 Dodge Rating
10% increased movement speed
Gain 40 ward on dodge
Many things are fickle, few more so than life itself
Leather Belt
14
Set Belts
[
]
Set Belts are Set Equipment that is equipped into the Belt slot.
Icon
Name
Set
Type
Implicits
Rarity
Unique Effects
Set Modifiers
Flavor Text
Base Item
Req. Level
Isadora's Tomb Binding
Isadora's
Belt
50-100 Added Armor
3-3 Potion Slots
Set
+200 Armor
+15% Increased Cast Speed
50% Increased Health Regeneration
Set (2):
60% Increased Necrotic Damage if you have been hit in the last 5 seconds
Set (3):
+30% Mana Efficiency with Necrotic Abilities
"..with a stake they slew her, and with silver they bound her.."
Plated Belt
19
Applicable Affixes
[
]
Name
Nickname
Type
Modifier(s)
T1 Range
T2 Range
T3 Range
T4 Range
T5 Range
Armor
Fortified
Prefix
Increased Armor
10  -  15
16  -  20
21  -  25
26  -  30
31  -  50
Armor
of Turtle
Suffix
Added Armor
6  -  25
26  -  50
51  -  80
81  -  120
121  -  180
Chance To Slow Attackers
????
Suffix
Chance To Slow Attackers
0  -  0
0  -  0
0  -  0
0  -  0
0  -  0
Cold Protection
of Frost
Suffix
Added Cold Protection
11  -  40
41  -  80
81  -  130
131  -  200
201  -  300
Critical Strike Avoidance
of Sanctuary
Suffix
Critical Strike Avoidance
0  -  0
0  -  0
0  -  0
0  -  0
0  -  0
Damage Over Time
Blighted
Prefix
Increased Damage Over Time
6  -  12
13  -  20
21  -  28
29  -  37
38  -  60
Dodge Rating (Added)
of the Monkey
Suffix
Added Dodge Rating
15  -  25
26  -  40
41  -  55
56  -  70
71  -  100
Dodge Rating (Increased)
Scout's
Prefix
Increased Dodge Rating
10  -  15
16  -  23
24  -  30
31  -  37
38  -  45
Elemental Damage Over Time
????
Prefix
Elemental Damage Over Time
0  -  0
0  -  0
0  -  0
0  -  0
0  -  0
Elemental Protection
of Insulation
Suffix
Added Elemental Protection
6  -  25
26  -  40
41  -  70
71  -  100
101  -  150
Extra Potion Slot and Potion Health
Nomad's
Prefix
Potion Slots
Health Gained on Potion Use
1  -  1
10  -  20
1  -  1
21  -  35
1  -  1
36  -  50
1  -  1
51  -  70
1  -  1
71  -  100
Fire Protection
of Embers
Suffix
Added Fire Protection
11  -  40
41  -  80
81  -  130
131  -  200
201  -  300
Glancing Blow Chance and Armor
Deflecting
Prefix
Added Armor
Added Chance to Receive a Glancing Blow When Hit
4  -  8
3  -  4
9  -  13
5  -  6
14  -  19
7  -  8
20  -  25
9  -  10
26  -  50
11  -  15
Glancing Blow Chance and Health
Enduring
Prefix
Added Health
Chance to Receive a Glancing Blow when Hit
5  -  6
3  -  4
  -  
5  -  6
  -  
7  -  8
  -  
9  -  10
  -  
11  -  15
Health (Added)
of the Giant
Suffix
Added Health
5  -  15
16  -  25
26  -  35
36  -  50
51  -  80
Health (Increased)
of the Ox
Suffix
Increased Health
3  -  4
5  -  6
7  -  8
  -  
  -  
Health Gained on Potion Use (Added)
Restorative
Prefix
Added Health Gained on Potion Use
10  -  19
20  -  30
31  -  45
46  -  60
61  -  100
Health Gained on Potion Use (Increased)
Rejuvenating
Prefix
Increased Health Gained on Potion Use
10  -  17
18  -  23
24  -  29
30  -  35
36  -  50
Health Regeneration
of Regrowth
Suffix
Increased Health Regeneration
5  -  15
16  -  25
26  -  35
36  -  45
46  -  75
Lightning Protection
of Sparks
Suffix
Added Lightning Protection
11  -  40
41  -  80
81  -  130
131  -  200
201  -  300
Minion Damage
????
Suffix
Minion Damage
0  -  0
0  -  0
0  -  0
0  -  0
0  -  0
Minion Dodge Rating
Feline
Prefix
Added Minion Dodge Rating
35  -  65
66  -  100
101  -  140
141  -  200
201  -  300
Minion Health
Ursine
Prefix
Increased Minion Health
15  -  35
36  -  55
56  -  75
76  -  100
101  -  150
Minion Health Regen
Reptilian
Prefix
Increased Minion Health Regeneration
20  -  40
41  -  80
81  -  130
131  -  200
201  -  300
Necrotic Protection
of Purity
Suffix
Added Necrotic Protection
11  -  40
41  -  80
81  -  130
131  -  200
201  -  300
Poison Protection
of the Mongoose
Suffix
Added Poison Protection
11  -  40
41  -  80
81  -  130
131  -  200
201  -  300
Stun Avoidance
of Tenacity
Suffix
Added Stun Avoidance
15  -  35
36  -  60
61  -  100
101  -  150
151  -  250
Void Protection
of Hope
Suffix
Added Void Protection
11  -  40
41  -  80
81  -  130
131  -  200
201  -  300
Ward Gained On Potion Use
Alchemist's
Prefix
Ward Gained On Potion Use
20  -  30
31  -  45
46  -  60
65  -  80
81  -  110