Gloves are Items which may be equipped into the gloves slot of Player Characters.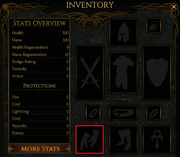 Basic Gloves
[
]
Gloves are equipment which have Added Armour as their primary implicit.
Unique Gloves
[
]
Unique Gloves are Unique Equipment that are equipped into the gloves slot.
Icon
Name
Type
Implicits
Rarity
Unique Effects
Flavor Text
Base Item
Req. Level
Atrophy
Gloves
32-32 Added Armor
3-10 Increased Cast Speed
Unique
% Increased Damage Over Time (40-100)
% Increased Time Rot Duration (20-40)
% Chance to Slow on Hit (20-40)
% Chance to Slow Attackers (20-40)
Rust and corrosion stand as monuments to the inevitability of time.
Noble Gloves
64
Boulderfists
Gloves
35-35 Added Armor
5-50 Added Elemental Protection
Unique
160% increased melee stun chance
160 added armor
60 added health
You cannot leech health
Strike with the force of a mountain
Lagonian Gauntlets
Fighting Chance
Gloves
28-28 Added Armor
Unique
45% increased Melee Damage
10% increased Damage Taken
15 Health Gain on Kill
Fight for your life
Iron Gauntlets
15
Keepers Gloves
Gloves
15-15 Added Armor
Unique
70-170 Poison Protection
10% chance to cast swarm of bees on melee hit (15 second cooldown) (Swarm of bees repeatedly deals poison damage hits to surrounding enemies for 8 seconds)
Swarm of bees has a high stun chance
Refuge Gloves
Riverbend Grasp
Gloves
7-7 Added Armor
10-30 Added Void Protection
Unique
15% chance to throw an axe at a nearby enemy on hit
50-100% increased throwing damage
70-140% increased dodge rating
30-60 added health
Move with the fluidity of water, relax and you can react without resistance
Leather Gloves
8
Wing Guards
Gloves  -  Engraved Gauntlets
65-65 Added Armor
Unique
200 added dodge rating
28% chance to gain haste for 1 second on hit
40% increased melee attack speed
You cannot deal critical strikes
Speed is its own accuracy
Engraved Gauntlets
45
Set Gloves
[
]
Set Gloves are Set Equipment that is equipped into the Gloves slot.
Icon
Name
Set
Type
Implicits
Rarity
Unique Effects
Set Modifiers
Flavor Text
Base Item
Req. Level
Isadora's Gravechill
Isadora's
Gloves
32-32 Added Armor
3-10 Increased Cast Speed
Set
+20 Health
+12 Cold damage with spells and attacks
+100 Chance to chill with necrotic abilities if you have killed an enemy in the last 5 seconds
Set (2):
60% Increased Necrotic Damage if you have been hit in the last 5 seconds
Set (3):
+30% Mana Efficiency with Necrotic Abilities
"..Yet her strength was not blood, but of bone.."
Noble Gloves
8
The Last Bear's Fury
The Last Bear's
Gloves
32-32 Added Armor
3-10 Increased Cast Speed
Set
43% Increased physical melee damage
3% Increased health regen per point of strength
47% Increased melee stun chance
+3% Critical strike chance with Swipe
Set (2):
+15% Critical strike multiplier
Set (3):
100% Increased health regeneration if you have stunned an enemy recently
The last bear stood alone against the void, guarding the cave in which she thought her cubs still rested.
Noble Gloves
31
Applicable Affixes
[
]
Name
Nickname
Type
Modifier(s)
T1 Range
T2 Range
T3 Range
T4 Range
T5 Range
Armor
Fortified
Prefix
Increased Armor
10  -  15
16  -  20
21  -  25
26  -  30
31  -  50
Armor
of Turtle
Suffix
Added Armor
6  -  25
26  -  50
51  -  80
81  -  120
121  -  180
Attunement
Attuned
Prefix
Added Attunement
1  -  1
2  -  2
3  -  4
5  -  6
7  -  8
Cast Speed
Shade's
Prefix
Increased Cast Speed
3  -  5
6  -  8
9  -  11
12  -  14
15  -  20
Chance To Chill Attackers
????
Suffix
Chance To Chill Attackers
0  -  0
0  -  0
0  -  0
0  -  0
0  -  0
Cold Protection
of Frost
Suffix
Added Cold Protection
11  -  40
41  -  80
81  -  130
131  -  200
201  -  300
Critical Strike Avoidance
of Sanctuary
Suffix
Critical Strike Avoidance
0  -  0
0  -  0
0  -  0
0  -  0
0  -  0
Damage Over Time
Blighted
Prefix
Increased Damage Over Time
6  -  12
13  -  20
21  -  28
29  -  37
38  -  60
Dexterity
Dexterous
Prefix
Added Dexterity
1  -  1
2  -  2
3  -  4
5  -  6
7  -  8
Dodge Rating (Added)
of the Monkey
Suffix
Added Dodge Rating
15  -  25
26  -  40
41  -  55
56  -  70
71  -  100
Elemental Protection
of Insulation
Suffix
Added Elemental Protection
6  -  25
26  -  40
41  -  70
71  -  100
101  -  150
Fire Protection
of Embers
Suffix
Added Fire Protection
11  -  40
41  -  80
81  -  130
131  -  200
201  -  300
Freeze Rate Multiplier and Cold Protection
????
Prefix
Freeze Rate Multiplier and Cold Protection
0  -  0
0  -  0
0  -  0
0  -  0
0  -  0
Glancing Blow Chance and Armor
Deflecting
Prefix
Added Armor
Added Chance to Receive a Glancing Blow When Hit
4  -  8
3  -  4
9  -  13
5  -  6
14  -  19
7  -  8
20  -  25
9  -  10
26  -  50
11  -  15
Glancing Blow Chance and Health
Enduring
Prefix
Added Health
Chance to Receive a Glancing Blow when Hit
5  -  6
3  -  4
  -  
5  -  6
  -  
7  -  8
  -  
9  -  10
  -  
11  -  15
Health (Added)
of the Giant
Suffix
Added Health
5  -  15
16  -  25
26  -  35
36  -  50
51  -  80
Health (Increased)
of the Ox
Suffix
Increased Health
3  -  4
5  -  6
7  -  8
  -  
  -  
Health Gained on Potion Use (Added)
Restorative
Prefix
Added Health Gained on Potion Use
10  -  19
20  -  30
31  -  45
46  -  60
61  -  100
Health Regen per Second
Blessed
Prefix
Added Health Regeneration
1  -  2
3  -  4
5  -  6
7  -  8
9  -  10
Health Regeneration
of Regrowth
Suffix
Increased Health Regeneration
5  -  15
16  -  25
26  -  35
36  -  45
46  -  75
Intelligence
Scholar's
Prefix
Added Intelligence
1  -  1
2  -  2
3  -  4
5  -  6
7  -  8
Lightning Protection
of Sparks
Suffix
Added Lightning Protection
11  -  40
41  -  80
81  -  130
131  -  200
201  -  300
Melee Attack Speed
Deft
Prefix
Increased Melee Attack Speed
3  -  5
6  -  8
9  -  11
12  -  14
15  -  20
Minion Dodge Rating
Feline
Prefix
Added Minion Dodge Rating
35  -  65
66  -  100
101  -  140
141  -  200
201  -  300
Minion Health
Ursine
Prefix
Increased Minion Health
15  -  35
36  -  55
56  -  75
76  -  100
101  -  150
Minion Health Regen
Reptilian
Prefix
Increased Minion Health Regeneration
20  -  40
41  -  80
81  -  130
131  -  200
201  -  300
Minion Physical Damage
Captain's
Prefix
Increased Minion Physical Damage
10  -  20
21  -  30
31  -  40
41  -  50
51  -  75
Necrotic Protection
of Purity
Suffix
Added Necrotic Protection
11  -  40
41  -  80
81  -  130
131  -  200
201  -  300
Poison Protection
of the Mongoose
Suffix
Added Poison Protection
11  -  40
41  -  80
81  -  130
131  -  200
201  -  300
Strength
Mighty
Prefix
Added Strength
1  -  1
2  -  2
3  -  4
5  -  6
7  -  8
Stun Avoidance
of Tenacity
Suffix
Added Stun Avoidance
15  -  35
36  -  60
61  -  100
101  -  150
151  -  250
Throwing Attack Damage
Catapult's
Prefix
Increased Throwing Attack Damage
20  -  30
31  -  50
51  -  75
76  -  100
101  -  150
Throwing Attack Speed
Slinger's
Prefix
Increased Throwing Attack Speed
5  -  8
9  -  12
14  -  18
18  -  22
23  -  35
Vitality
Vital
Prefix
Added Vitality
1  -  1
2  -  2
3  -  4
5  -  6
7  -  8
Void Protection
of Hope
Suffix
Added Void Protection
11  -  40
41  -  80
81  -  130
131  -  200
201  -  300
Ward Gained On Potion Use
Alchemist's
Prefix
Ward Gained On Potion Use
20  -  30
31  -  45
46  -  60
65  -  80
81  -  110