Helmets are Items which may be equipped into the helmet slot of Player Characters.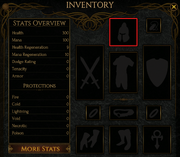 Basic Helmets
[
]
Helmets have Added Armour as their primary implicit.
Unique Helmets
[
]
Unique Helmets are Unique Equipment that is equipped into the helmet slot.
Icon
Name
Type
Implicits
Rarity
Unique Effects
Flavor Text
Base Item
Req. Level
Artor's Legacy
Helmet
35-35 Added Armor
5-15 Increased Health Regeneration
Unique
+1 Maximum companions
+25% chance to chill on melee hit
+25% chill duration
25% increased melee attack speed
The great wolf Artor ran with Heorot in time long forgotten
Lupine Helmet
26
Calamity
Helmet
5-5 Added Armor
10-35 Added Mana
5-25 Increased Spell Damage
Unique
150% increased ignite chance for fire skills
40% increased fire damage
You take 2 fire damage per second per fire kill in the last 5 seconds
Set the world ablaze and burn along with it
Jewelled Circlet
7
Decayed Skull
Helmet
50-50 Added Armor
Unique
80% increased void damage
20% of void damage taken as physical
20% of necrotic damage taken as physical
80% increased necrotic damage
Only the evil trade their sanity for power
Dome Cap
24
Snowblind
Helmet
40-40 Added Armor
Unique
Cold skills have 20% chance to blind
Adds 80 cold protection
Adds 40 armor
You cannot be blinded
Blind with the snow, never blinded by it.
Iron Casque
10
Set Helmets
[
]
Set Helmets are Set Equipment that is equipped into the helmet slot.
Icon
Name
Set
Type
Implicits
Rarity
Unique Effects
Set Modifiers
Flavor Text
Base Item
Req. Level
Isadora's Revenge
Isadora's
Helmet
75-75 Added Armor
Set
+10% Glancing Blow Chance
+180 Stun Avoidance
+40 Health
Set (2):
60% Increased Necrotic Damage if you have been hit in the last 5 seconds
Set (3):
+30% Mana Efficiency with Necrotic Abilities
".. and enraged she rose with murder in her eyes.."
Bronze Casque
7
Applicable Affixes
[
]
Name
Nickname
Type
Modifier(s)
T1 Range
T2 Range
T3 Range
T4 Range
T5 Range
Armor
Fortified
Prefix
Increased Armor
10  -  15
16  -  20
21  -  25
26  -  30
31  -  50
Armor
of Turtle
Suffix
Added Armor
6  -  25
26  -  50
51  -  80
81  -  120
121  -  180
Attunement
Attuned
Prefix
Added Attunement
1  -  1
2  -  2
3  -  4
5  -  6
7  -  8
Chance To Chill Attackers
????
Suffix
Chance To Chill Attackers
0  -  0
0  -  0
0  -  0
0  -  0
0  -  0
Cold Protection
of Frost
Suffix
Added Cold Protection
11  -  40
41  -  80
81  -  130
131  -  200
201  -  300
Critical Strike Avoidance
of Sanctuary
Suffix
Critical Strike Avoidance
0  -  0
0  -  0
0  -  0
0  -  0
0  -  0
Damage Dealt to Mana Before Health
Lunar
Prefix
Damage Dealt to Mana Before Health
5  -  5
6  -  6
7  -  7
8  -  8
9  -  10
Damage Over Time for Minions
Sorrowful
Prefix
Damage Over Time for Minions
0  -  0
0  -  0
0  -  0
0  -  0
0  -  0
Dexterity
Dexterous
Prefix
Added Dexterity
1  -  1
2  -  2
3  -  4
5  -  6
7  -  8
Dodge Rating (Added)
of the Monkey
Suffix
Added Dodge Rating
15  -  25
26  -  40
41  -  55
56  -  70
71  -  100
Elemental Protection
of Insulation
Suffix
Added Elemental Protection
6  -  25
26  -  40
41  -  70
71  -  100
101  -  150
Fire Protection
of Embers
Suffix
Added Fire Protection
11  -  40
41  -  80
81  -  130
131  -  200
201  -  300
Glancing Blow Chance and Armor
Deflecting
Prefix
Added Armor
Added Chance to Receive a Glancing Blow When Hit
4  -  8
3  -  4
9  -  13
5  -  6
14  -  19
7  -  8
20  -  25
9  -  10
26  -  50
11  -  15
Glancing Blow Chance and Health
Enduring
Prefix
Added Health
Chance to Receive a Glancing Blow when Hit
5  -  6
3  -  4
  -  
5  -  6
  -  
7  -  8
  -  
9  -  10
  -  
11  -  15
Health (Added)
of the Giant
Suffix
Added Health
5  -  15
16  -  25
26  -  35
36  -  50
51  -  80
Health (Increased)
of the Ox
Suffix
Increased Health
3  -  4
5  -  6
7  -  8
  -  
  -  
Health Gained on Potion Use (Added)
Restorative
Prefix
Added Health Gained on Potion Use
10  -  19
20  -  30
31  -  45
46  -  60
61  -  100
Health Gained on Potion Use (Increased)
Rejuvenating
Prefix
Increased Health Gained on Potion Use
10  -  17
18  -  23
24  -  29
30  -  35
36  -  50
Health Regen per Second
Blessed
Prefix
Added Health Regeneration
1  -  2
3  -  4
5  -  6
7  -  8
9  -  10
Health Regeneration
of Regrowth
Suffix
Increased Health Regeneration
5  -  15
16  -  25
26  -  35
36  -  45
46  -  75
Increased Cooldown Recovery Speed
Lucid
Prefix
Increased Cooldown Recovery Speed
5  -  6
7  -  8
9  -  10
11  -  12
13  -  15
Intelligence
Scholar's
Prefix
Added Intelligence
1  -  1
2  -  2
3  -  4
5  -  6
7  -  8
Lightning Protection
of Sparks
Suffix
Added Lightning Protection
11  -  40
41  -  80
81  -  130
131  -  200
201  -  300
Mana
of the Owl
Suffix
Added Mana
6  -  10
11  -  15
16  -  20
21  -  25
26  -  35
Minion Dodge Rating
Feline
Prefix
Added Minion Dodge Rating
35  -  65
66  -  100
101  -  140
141  -  200
201  -  300
Minion Health
Ursine
Prefix
Increased Minion Health
15  -  35
36  -  55
56  -  75
76  -  100
101  -  150
Minion Health Regen
Reptilian
Prefix
Increased Minion Health Regeneration
20  -  40
41  -  80
81  -  130
131  -  200
201  -  300
Necrotic Protection
of Purity
Suffix
Added Necrotic Protection
11  -  40
41  -  80
81  -  130
131  -  200
201  -  300
Poison Protection
of the Mongoose
Suffix
Added Poison Protection
11  -  40
41  -  80
81  -  130
131  -  200
201  -  300
Strength
Mighty
Prefix
Added Strength
1  -  1
2  -  2
3  -  4
5  -  6
7  -  8
Stun Avoidance
of Tenacity
Suffix
Added Stun Avoidance
15  -  35
36  -  60
61  -  100
101  -  150
151  -  250
Vitality
Vital
Prefix
Added Vitality
1  -  1
2  -  2
3  -  4
5  -  6
7  -  8
Void Protection
of Hope
Suffix
Added Void Protection
11  -  40
41  -  80
81  -  130
131  -  200
201  -  300