Last Epoch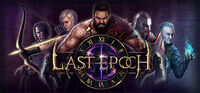 Last Epoch is an upcoming competitive ARPG Hack 'n' slash ("Diablo-like") game being developed by Eleventh Hour Games currently in beta.
Last Epoch perfects the action role-playing game formula with innovative dungeon crawling, exciting isometric combat, and an engrossing loot system.
Hack'n'Slash tactical isometric combat
Infinite replayability
Multiplayer co-op and competitive gameplay
15 Classes and hundreds of viable character builds
Randomized Loot
Magic, Unique, and Set Equipment
Extremely rare legendary Equipment
Many end-game systems such as scaling dungeons, boss runs, PvP and more
Try to reach max level
Randomized dungeons
Last Epoch's release date is currently scheduled for 2021.

The first beta release was released on April 30th, 2019, alongside release on the steam platform.
The first alpha build released to supporters was made available in August 2018.
The following are the minimum System Requirements for Last Epoch's current Game Versions. Currently support is only planned for 64-bit Operating Systems.
i5 2500, FX-8350, or Ryzen 3 1200
8GB of RAM
Nvidia GTX 660 Ti or AMD R7 370
System requirements may change over time.