Relics are Items which may be equipped into the relic slot of Player Characters.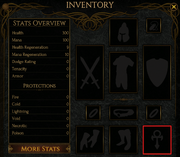 Basic Relics
[
]
Unique Relics
[
]
Unique Relics are Unique Equipment that are equipped into the relic slot.
Icon
Name
Type
Implicits
Rarity
Unique Effects
Flavor Text
Base Item
Req. Level
Grimoire of Necrotic Elixers
Relic
1-2 Added Vitality
20-2 Reduced Health Regeneration
Unique
+2 Vitality
5% of Current Health Drained per Second for 4 seconds when you use a potion.
60% increased void protection, necrotic protection, and poison protection for 4 seconds on potion use.
+20 Necrotic Damage to melee attacks and spells for 4 seconds on potion use.
Take a quaff from draught of undeath
Stained Tome
24
Soulfire
Relic
10-30 Chance to Ignite on Hit
Unique
+60 Health
+160% chance to ignite on hit with fire skills and necrotic skills
60% increased fire damage if you have killed an enemy recently
100% increased armor while ignited
The souls of the damned burn with eternal fire
Solarum Ensign
34
Tome of Elements
Relic
6-10 Added Mana
Unique
2% of Elemental Damage leeched as Health
+24-44% chance to Chill, Shock, and Ignite with elemental abilities
The power of the elements is greatest in their most primal state
Ancient Tome
Set Relics
[
]
Set Relics are Set Equipment that is equipped into the Relic slot.
Icon
Name
Set
Type
Implicits
Rarity
Unique Effects
Set Modifiers
Flavor Text
Base Item
Req. Level
Fragments of the Shattered Lance
Shattered Lance
Relic
+3-4 Health Regen
Set
% Increased Health Regen (70-100)
% Freeze Rate Multiplier (40-80)
Health Gain on Cull (10-13)
% Increased Melee Cold Damage (70-100)
Set (2):
% Increased Health Regen per point of Strength (6)
Crafted in desperation, seized with ambition.
Splintered Haft
65
Applicable Affixes
[
]
Name
Nickname
Type
Modifier(s)
T1 Range
T2 Range
T3 Range
T4 Range
T5 Range
T6 Range
T7 Range
Armor
of Turtle
Suffix
Added Armor
6  -  25
26  -  50
51  -  80
81  -  120
121  -  180
  -  
  -  
Attunement
Attuned
Prefix
Added Attunement
1  -  1
2  -  2
3  -  4
5  -  6
7  -  8
  -  
  -  
Cast Speed
Shade's
Prefix
Increased Cast Speed
3  -  5
6  -  8
9  -  11
12  -  14
15  -  20
  -  
  -  
Chance To Shock Attackers
Suffix
Chance To Shock Attackers
  -  
  -  
  -  
  -  
  -  
  -  
  -  
Cold Damage
Cryomancer's
Prefix
Increased Cold Damage
6  -  12
13  -  20
21  -  28
29  -  37
38  -  60
  -  
  -  
Cold Protection
of Frost
Suffix
Added Cold Protection
11  -  40
41  -  80
81  -  130
131  -  200
201  -  300
  -  
  -  
Critical Strike Chance
Assassin's
Prefix
Increased Critical Strike Chance
15  -  20
21  -  25
26  -  30
31  -  35
36  -  50
  -  
  -  
Critical Strike Multiplier
Eviscerating
Prefix
Added Critical Strike Multiplier
7  -  9
10  -  12
13  -  16
17  -  20
21  -  25
  -  
  -  
Damage Over Time
Blighted
Prefix
Increased Damage Over Time
6  -  12
13  -  20
21  -  28
29  -  37
38  -  60
  -  
  -  
Damage Over Time for Minions
Sorrowful
Prefix
Damage Over Time for Minions
  -  
  -  
  -  
  -  
  -  
  -  
  -  
Dexterity
Dexterous
Prefix
Added Dexterity
1  -  1
2  -  2
3  -  4
5  -  6
7  -  8
  -  
  -  
Dodge Rating (Increased)
Scout's
Prefix
Increased Dodge Rating
10  -  15
16  -  23
24  -  30
31  -  37
38  -  45
  -  
  -  
Elemental Damage Over Time
Prefix
Elemental Damage Over Time
  -  
  -  
  -  
  -  
  -  
  -  
  -  
Elemental Protection
Protective
Prefix
Elemental Protection Per Item Equiped With This Affix
5  -  10
11  -  17
18  -  25
26  -  35
36  -  55
  -  
  -  
Elemental Protection
of Insulation
Suffix
Added Elemental Protection
6  -  25
26  -  40
41  -  70
71  -  100
101  -  150
  -  
  -  
Fire Damage
Pyromancer's
Prefix
Increased Fire Damage
6  -  12
13  -  20
21  -  28
29  -  37
38  -  60
  -  
  -  
Fire Protection
of Embers
Suffix
Added Fire Protection
11  -  40
41  -  80
81  -  130
131  -  200
201  -  300
  -  
  -  
Freeze Chance and Cold Protection
Glacial
Prefix
Increased Freeze Chance
Increased Cold Protection
15  -  24
3  -  5
25  -  35
6  -  8
36  -  45
9  -  11
46  -  55
13  -  15
56  -  75
16  -  20
  -  
  -  
  -  
  -  
Freeze Rate Multiplier and Cold Protection
Prefix
Freeze Rate Multiplier and Cold Protection
  -  
  -  
  -  
  -  
  -  
  -  
  -  
Health
Leviathan's
Prefix
Added Health Per Item Equipped With This Affix
4  -  7
8  -  11
12  -  15
16  -  20
21  -  30
  -  
  -  
Health (Added)
of the Giant
Suffix
Added Health
5  -  15
16  -  25
26  -  35
36  -  50
51  -  80
  -  
  -  
Health Gained on Potion Use (Added)
Restorative
Prefix
Added Health Gained on Potion Use
10  -  19
20  -  30
31  -  45
46  -  60
61  -  100
  -  
  -  
Health Gained on Potion Use (Increased)
Rejuvenating
Prefix
Increased Health Gained on Potion Use
10  -  17
18  -  23
24  -  29
30  -  35
36  -  50
  -  
  -  
Health Regen
Endless
Prefix
Increased Health Regen Per Equipped Item With This Affix
4  -  7
8  -  11
12  -  15
16  -  20
21  -  25
  -  
  -  
Health Regeneration
of Regrowth
Suffix
Increased Health Regeneration
5  -  15
16  -  25
26  -  35
36  -  45
46  -  75
  -  
  -  
Hybrid Health Leech
Siphoning
Prefix
Damage Leeched as Health on Hit
Increased Health Leech
1  -  1.1
10  -  14
1.2  -  1.3
15  -  19
1.4  -  1.6
20  -  24
1.7  -  1.9
25  -  29
2  -  2.5
30  -  40
  -  
  -  
  -  
  -  
Increased Healing Effectiveness
Cleric's
Prefix
Increased Healing Effectiveness
10  -  20
20  -  35
36  -  50
51  -  65
66  -  90
  -  
  -  
Intelligence
Scholar's
Prefix
Added Intelligence
1  -  1
2  -  2
3  -  4
5  -  6
7  -  8
  -  
  -  
Lightning Damage
Conduit's
Prefix
Increased Lightning Damage
6  -  12
13  -  20
21  -  28
29  -  37
38  -  60
  -  
  -  
Lightning Protection
of Sparks
Suffix
Added Lightning Protection
11  -  40
41  -  80
81  -  130
131  -  200
201  -  300
  -  
  -  
Mana
of the Owl
Suffix
Added Mana
6  -  10
11  -  15
16  -  20
21  -  25
26  -  35
  -  
  -  
Minion Damage
Suffix
Minion Damage
  -  
  -  
  -  
  -  
  -  
  -  
  -  
Minion Dodge Rating
Feline
Prefix
Added Minion Dodge Rating
35  -  65
66  -  100
101  -  140
141  -  200
201  -  300
  -  
  -  
Minion Health
Ursine
Prefix
Increased Minion Health
15  -  35
36  -  55
56  -  75
76  -  100
101  -  150
  -  
  -  
Minion Health Regen
Reptilian
Prefix
Increased Minion Health Regeneration
20  -  40
41  -  80
81  -  130
131  -  200
201  -  300
  -  
  -  
Minion Physical Damage
Captain's
Prefix
Increased Minion Physical Damage
10  -  20
21  -  30
31  -  40
41  -  50
51  -  75
  -  
  -  
Necrotic Damage
Occultist's
Prefix
Increased Necrotic Damage
6  -  12
13  -  20
21  -  28
29  -  37
38  -  60
  -  
  -  
Necrotic Protection
of Purity
Suffix
Added Necrotic Protection
11  -  40
41  -  80
81  -  130
131  -  200
201  -  300
  -  
  -  
Physical Damage
Warrior's
Prefix
Increased Physical Damage
6  -  12
13  -  20
21  -  28
29  -  37
38  -  60
  -  
  -  
Poison Damage
Toxic
Prefix
Increased Poison Damage
6  -  12
13  -  20
21  -  28
29  -  37
38  -  60
  -  
  -  
Poison Protection
of the Mongoose
Suffix
Added Poison Protection
11  -  40
41  -  80
81  -  130
131  -  200
201  -  300
  -  
  -  
Set Elemental Protection
Prefix
Set Elemental Protection
  -  
  -  
  -  
  -  
  -  
  -  
  -  
Set Health Regen
Suffix
Set Health Regen
  -  
  -  
  -  
  -  
  -  
  -  
  -  
Spell Critical Strike Chance
Prefix
Increased Spell Critical Strike Chance
  -  
  -  
  -  
  -  
  -  
  -  
  -  
Spell Damage
Imbued
Prefix
Increased Spell Damage
6  -  12
13  -  20
21  -  28
29  -  37
38  -  60
  -  
  -  
Spell Damage for 4 seconds on potion use
Witch's
Prefix
Increased Spell Damage for 4 Seconds on Potion Use
20  -  30
31  -  40
41  -  55
56  -  70
71  -  110
  -  
  -  
Strength
Mighty
Prefix
Added Strength
1  -  1
2  -  2
3  -  4
5  -  6
7  -  8
  -  
  -  
Throwing Attack Damage
Catapult's
Prefix
Increased Throwing Attack Damage
20  -  30
31  -  50
51  -  75
76  -  100
101  -  150
  -  
  -  
Throwing Attack Speed
Slinger's
Prefix
Increased Throwing Attack Speed
5  -  8
9  -  12
14  -  18
18  -  22
23  -  35
  -  
  -  
Vitality
Vital
Prefix
Added Vitality
1  -  1
2  -  2
3  -  4
5  -  6
7  -  8
  -  
  -  
Void Damage
Abyssal
Prefix
Increased Void Damage
6  -  12
13  -  20
21  -  28
29  -  37
38  -  60
  -  
  -  
Void Protection
of Hope
Suffix
Added Void Protection
11  -  40
41  -  80
81  -  130
131  -  200
201  -  300
  -  
  -