Rings are Items which may be equipped into a ring slot of Player Characters.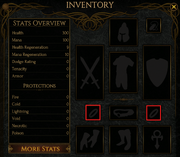 Basic Rings
[
]
Unique Rings
[
]
Unique Rings are Unique equipment that is equipped into a ring slot.
Icon
Name
Type
Implicits
Rarity
Unique Effects
Flavor Text
Base Item
Req. Level
Arboreal Circuit
Ring
3-8 Increased Movement Speed
Unique
Adds 300-721 Minion Armor
+8-10% increased Movement Speed
10% chance to summon an Illusory Tree when hit (15 second cooldown)
You can search round and round, but you are seeking an illusion.
Silver Ring
Hollow Finger
Ring  -  Ring
5-35 Increased Minion Damage
5-35 Increased Minion Health
Unique
+40% Chance to Chill on Hit
+4 Melee Necrotic Damage
+80 Cold Protection
+1 Maximum Skeleton
Only brittle skin remains
Turquoise Ring
31
75x180px
Julra's Stardial
Ring
+10-20 Mana
6-12% increased Mana Regen
Unique
(12-36)% of Mana Spent Gained as Ward
(36-82)% increased Spell Damage
When you use a movement or time travel skill all stats on this item are tripled for 4 seconds (12 second cooldown)
"By the movement of the stars, thirteen centuries have passed, are ruins all that remains?"
Sapphire Ring
40
Ribbons of Blood
Ring
28-45% Fire Resistance
28-45% Increased Fire Damage
Unique
% Increased Health (7-10)
% of Melee Minion Damage Leeched as Health on Hit (2-4)
% Minion Increased Leech Rate (20-40)
Melee Physical Damage for Minions (4-7)
The congealing liquid grips tight around your finger, the memories of its vessels passing into those that you summon.
Ruby Ring
53
Ring of the Third Eye
Ring
7-25 Increased Stun Chance
Unique
30% increased critical strike chance
-30% critical strike multiplier
30% chance to gain 15 ward on crit
forsee the strikes, imbue them with power
Copper Ring
Siphon of Anguish
Ring
5-18% Increased Elemental Resistance
Unique
% of Melee Damage Leeched as Health (1-3)
% of Void Damage Leeched as Health (1-3)
% Increased Leech Rate (10-30)
% Increased Movement Speed (3-8)
The sorrow of those that remain feeds the hungering void.
Gold Ring
55
Set Rings
[
]
Set Rings are Set Equipment that is equipped into the Ring slot.
Icon
Name
Set
Type
Implicits
Rarity
Unique Effects
Set Modifiers
Flavor Text
Base Item
Req. Level
The Invoker's Scorching Grasp
The Invoker's
Ring
5-20 Added Health
7-30 Added Stun Avoidance
Set
+13 Melee Fire Damage
+50% chance to ignite on hit
50% increased fire damage over time
Set (2):
Casting a lightning spell gives 20% more fire damage, casting a fire spell gives 20% more cold damage, and casting a cold spell gives 20% more lightning damage.
Set (3):
500 Elemental Protection
..his master fell, a firey death knell..
Ruby Ring
10
The Invoker's Static Touch
The Invoker's
Ring
5-15 Added Mana
Set
+30% shock effect
+15% chance to shock on spell hit
+13 spell lightning damage
Set (2):
Casting a lightning spell gives 20% more fire damage, casting a fire spell gives 20% more cold damage, and casting a cold spell gives 20% more lightning damage.
Set (3):
500 Elemental Protection
..electrified with ambition, he cast spells beyond his cognition..
Sapphire Ring
16
Applicable Affixes
[
]
Name
Nickname
Type
Modifier(s)
T1 Range
T2 Range
T3 Range
T4 Range
T5 Range
T6 Range
T7 Range
Armor
of Turtle
Suffix
Added Armor
6  -  25
26  -  50
51  -  80
81  -  120
121  -  180
  -  
  -  
Attunement
Attuned
Prefix
Added Attunement
1  -  1
2  -  2
3  -  4
5  -  6
7  -  8
  -  
  -  
Chance To Slow Attackers
Suffix
Chance To Slow Attackers
  -  
  -  
  -  
  -  
  -  
  -  
  -  
Cold Damage
Cryomancer's
Prefix
Increased Cold Damage
6  -  12
13  -  20
21  -  28
29  -  37
38  -  60
  -  
  -  
Cold Protection
of Frost
Suffix
Added Cold Protection
11  -  40
41  -  80
81  -  130
131  -  200
201  -  300
  -  
  -  
Critical Strike Avoidance
of Sanctuary
Suffix
Critical Strike Avoidance
  -  
  -  
  -  
  -  
  -  
  -  
  -  
Critical Strike Chance
Assassin's
Prefix
Increased Critical Strike Chance
15  -  20
21  -  25
26  -  30
31  -  35
36  -  50
  -  
  -  
Damage Over Time
Blighted
Prefix
Increased Damage Over Time
6  -  12
13  -  20
21  -  28
29  -  37
38  -  60
  -  
  -  
Damage Over Time for Minions
Sorrowful
Prefix
Damage Over Time for Minions
  -  
  -  
  -  
  -  
  -  
  -  
  -  
Dexterity
Dexterous
Prefix
Added Dexterity
1  -  1
2  -  2
3  -  4
5  -  6
7  -  8
  -  
  -  
Dodge Rating (Added)
of the Monkey
Suffix
Added Dodge Rating
15  -  25
26  -  40
41  -  55
56  -  70
71  -  100
  -  
  -  
Elemental Damage
Shimmering
Prefix
Increased Elemental Damage
5  -  9
10  -  16
17  -  24
25  -  32
33  -  50
  -  
  -  
Elemental Damage Over Time
Prefix
Elemental Damage Over Time
  -  
  -  
  -  
  -  
  -  
  -  
  -  
Elemental Protection
Protective
Prefix
Elemental Protection Per Item Equiped With This Affix
5  -  10
11  -  17
18  -  25
26  -  35
36  -  55
  -  
  -  
Elemental Protection
of Insulation
Suffix
Added Elemental Protection
6  -  25
26  -  40
41  -  70
71  -  100
101  -  150
  -  
  -  
Fire Damage
Pyromancer's
Prefix
Increased Fire Damage
6  -  12
13  -  20
21  -  28
29  -  37
38  -  60
  -  
  -  
Fire Protection
of Embers
Suffix
Added Fire Protection
11  -  40
41  -  80
81  -  130
131  -  200
201  -  300
  -  
  -  
Freeze Chance and Cold Protection
Glacial
Prefix
Increased Freeze Chance
Increased Cold Protection
15  -  24
3  -  5
25  -  35
6  -  8
36  -  45
9  -  11
46  -  55
13  -  15
56  -  75
16  -  20
  -  
  -  
  -  
  -  
Freeze Rate Multiplier and Cold Protection
Prefix
Freeze Rate Multiplier and Cold Protection
  -  
  -  
  -  
  -  
  -  
  -  
  -  
Glancing Blow Chance and Armor
Deflecting
Prefix
Added Armor
Added Chance to Receive a Glancing Blow When Hit
4  -  8
3  -  4
9  -  13
5  -  6
14  -  19
7  -  8
20  -  25
9  -  10
26  -  50
11  -  15
  -  
  -  
  -  
  -  
Glancing Blow Chance and Health
Enduring
Prefix
Added Health
Chance to Receive a Glancing Blow when Hit
5  -  6
3  -  4
  -  
5  -  6
  -  
7  -  8
  -  
9  -  10
  -  
11  -  15
  -  
  -  
  -  
  -  
Health
Leviathan's
Prefix
Added Health Per Item Equipped With This Affix
4  -  7
8  -  11
12  -  15
16  -  20
21  -  30
  -  
  -  
Health (Added)
of the Giant
Suffix
Added Health
5  -  15
16  -  25
26  -  35
36  -  50
51  -  80
  -  
  -  
Health Gained on Potion Use (Added)
Restorative
Prefix
Added Health Gained on Potion Use
10  -  19
20  -  30
31  -  45
46  -  60
61  -  100
  -  
  -  
Health Regen
Endless
Prefix
Increased Health Regen Per Equipped Item With This Affix
4  -  7
8  -  11
12  -  15
16  -  20
21  -  25
  -  
  -  
Health Regeneration
of Regrowth
Suffix
Increased Health Regeneration
5  -  15
16  -  25
26  -  35
36  -  45
46  -  75
  -  
  -  
Hybrid Health Leech
Siphoning
Prefix
Damage Leeched as Health on Hit
Increased Health Leech
1  -  1.1
10  -  14
1.2  -  1.3
15  -  19
1.4  -  1.6
20  -  24
1.7  -  1.9
25  -  29
2  -  2.5
30  -  40
  -  
  -  
  -  
  -  
Increased Healing Effectiveness
Cleric's
Prefix
Increased Healing Effectiveness
10  -  20
20  -  35
36  -  50
51  -  65
66  -  90
  -  
  -  
Intelligence
Scholar's
Prefix
Added Intelligence
1  -  1
2  -  2
3  -  4
5  -  6
7  -  8
  -  
  -  
Lightning Damage
Conduit's
Prefix
Increased Lightning Damage
6  -  12
13  -  20
21  -  28
29  -  37
38  -  60
  -  
  -  
Lightning Protection
of Sparks
Suffix
Added Lightning Protection
11  -  40
41  -  80
81  -  130
131  -  200
201  -  300
  -  
  -  
Minion Damage
Suffix
Minion Damage
  -  
  -  
  -  
  -  
  -  
  -  
  -  
Minion Dodge Rating
Feline
Prefix
Added Minion Dodge Rating
35  -  65
66  -  100
101  -  140
141  -  200
201  -  300
  -  
  -  
Minion Health
Ursine
Prefix
Increased Minion Health
15  -  35
36  -  55
56  -  75
76  -  100
101  -  150
  -  
  -  
Minion Health Regen
Reptilian
Prefix
Increased Minion Health Regeneration
20  -  40
41  -  80
81  -  130
131  -  200
201  -  300
  -  
  -  
Minion Physical Damage
Captain's
Prefix
Increased Minion Physical Damage
10  -  20
21  -  30
31  -  40
41  -  50
51  -  75
  -  
  -  
Necrotic Damage
Occultist's
Prefix
Increased Necrotic Damage
6  -  12
13  -  20
21  -  28
29  -  37
38  -  60
  -  
  -  
Necrotic Protection
of Purity
Suffix
Added Necrotic Protection
11  -  40
41  -  80
81  -  130
131  -  200
201  -  300
  -  
  -  
Poison Damage
Toxic
Prefix
Increased Poison Damage
6  -  12
13  -  20
21  -  28
29  -  37
38  -  60
  -  
  -  
Poison Protection
of the Mongoose
Suffix
Added Poison Protection
11  -  40
41  -  80
81  -  130
131  -  200
201  -  300
  -  
  -  
Set Elemental Protection
Prefix
Set Elemental Protection
  -  
  -  
  -  
  -  
  -  
  -  
  -  
Set Health Regen
Suffix
Set Health Regen
  -  
  -  
  -  
  -  
  -  
  -  
  -  
Spell Damage
Imbued
Prefix
Increased Spell Damage
6  -  12
13  -  20
21  -  28
29  -  37
38  -  60
  -  
  -  
Strength
Mighty
Prefix
Added Strength
1  -  1
2  -  2
3  -  4
5  -  6
7  -  8
  -  
  -  
Stun Avoidance
of Tenacity
Suffix
Added Stun Avoidance
15  -  35
36  -  60
61  -  100
101  -  150
151  -  250
  -  
  -  
Throwing Attack Damage and Mana Cost
Ballista's
Prefix
Increased Throwing Attack Damage
Subtracted Mana from Throwing Attacks
15  -  25
3  -  3
26  -  40
3  -  3
40  -  55
3  -  3
56  -  70
3  -  3
71  -  100
3  -  3
  -  
  -  
  -  
  -  
Throwing Attack Speed
Slinger's
Prefix
Increased Throwing Attack Speed
5  -  8
9  -  12
14  -  18
18  -  22
23  -  35
  -  
  -  
Vitality
Vital
Prefix
Added Vitality
1  -  1
2  -  2
3  -  4
5  -  6
7  -  8
  -  
  -  
Void Damage
Abyssal
Prefix
Increased Void Damage
6  -  12
13  -  20
21  -  28
29  -  37
38  -  60
  -  
  -  
Void Protection
of Hope
Suffix
Added Void Protection
11  -  40
41  -  80
81  -  130
131  -  200
201  -  300
  -  
  -